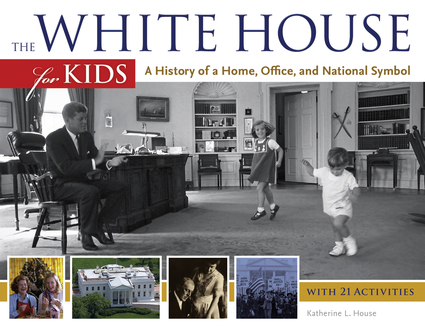 The White House for Kids: A History of a Home, Office, and National Symbol, with 21 Activities
Publisher: Chicago Review Press
Publication Date: February 1, 2014
ISBN: 9781613744611
Order Online:
Support Your Local Bookstores:
An intriguing, in-depth look at the most famous home in the United States, this book introduces readers to the White House, its inhabitants, its staff, and daily life for adults and first kids alike. Lively anecdotes describe how Susan Ford once held her prom in the East Room, how the Lincoln boys planned to defend the home during the Civil War, and how Theodore Roosevelt's son Quentin launched spitballs at a presidential portrait. This carefully researched work–based on numerous primary sources, including memoirs by White House residents and staff members–covers the initial construction, reconstruction and various renovations of the building, the job of the president and first lady, the joys and frustrations of being a first kid, holiday celebrations and more.
The book's 21 activities give readers an opportunity to:
Build a model White House using a tissue box, Styrofoam and household items
Play key passages of "Hail to the Chief"
Make White House fruit punch
Learn to play "Hooverball," an aerobic game designed for President Herbert Hoover
Sign their name the way the president does (with many pens)
and much more
Click here for a sample activity
Resources include a time line, a listing of museums related to presidents and first ladies, web resources, a list of presidents, and an extensive bibliography.
Click here for the author's source notes.
Reviews
"… young readers will certainly be drawn in by this kid-friendly approach to history … An engaging history of a country through the biography of its most famous dwelling."

—Kirkus Reviews
"a great resource" and "in-depth and engaging introduction to our nation's most famous home"

—School Library Journal
"The clearly written text is full of anecdotes that bring the past to life."

"Attractive, informative, and up-to-date, this is a solid choice for library collections."

—Booklist